Hours before the Dallas Mavericks' title defense fizzled in a first-round sweep, a first in Mark Cuban's dozen seasons, the outspoken and out-of-the-box owner of the dismantled champions chastised sports writers, demanding the know-it-alls digest the new collective bargaining agreement before questioning his suddenly scaled-back spending approach to team building.
For the many fans who didn't find the enthralling document on the best-sellers shelf at their local bookstore, a perception surfaced that the new fang-bearing CBA, with its harsher luxury tax penalties, scared the billionaire Cuban from re-signing Tyson Chandler this past December and into becoming cheap.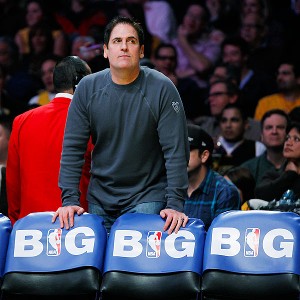 What other explanation could there be for an $88 million payroll — in the top three in the league and $18 million over the luxury tax line — during the championship season and a payroll today that stands to top out at about $61 million, $9 million below the tax line?
In actuality, Cuban doesn't fear the larger luxury tax hammer the CBA starts swinging in 2013-14 nearly as much as the roster handcuffs it will slap on luxury tax offenders.
This is not about being cheap versus spending extravagantly, as Cuban unabashedly had done throughout his ownership and as the Brooklyn Nets did this summer in an attempt to put a competitive team around prized free agent Deron Williams, who spurned the Mavs and sent them scrambling for contingency plans. This is about differing interpretations as to how to best build a team under the new rules.
The Nets and Mavs have emerged as a fascinating case study in opposing approaches to the new CBA that will play out over the next three to five years.
Brooklyn, boasting a payroll approaching $82 million next season with five projected starters each earning at least $10 million and a slew of long-term deals, is locked into restrictive luxury tax territory through 2015-16. The newly fiscally self-restrained Mavs, with only Dirk Nowitzki ($20.9 million) scheduled to make more than $8.5 million next season and no one locked up beyond 2013-14, are flush with cap space for the foreseeable future.
"The money is secondary to the team-building strategy," Cuban said. "Once you get above the tax apron [the $70.307 million luxury tax plus $4 million], there are limitations in player movement that I think have a big impact on how to build a team."
If the Nets manage to land Dwight Howard in a midseason trade, their high-dollar offseason maneuverings — signing Gerald Wallace to a $40 million contract and trading for Joe Johnson's enormous contract, which ultimately enticed Williams to stay — will give Brooklyn a roster it can love long term and a luxury tax bill that Russian billionaire owner Mikhail Prokhorov will pay as if checking his luggage on a flight home to Moscow.
But if Brooklyn doesn't acquire Howard and the Nets aren't contending in two or three years, they will be locked into the current roster, limited to making only minor adjustments. It's why Cuban ultimately decided that sacrificing a true title defense in favor of trimming the payroll and creating future cap space was a wiser bet than backing the franchise into a corner with an aging, potentially unmovable roster.
Two key CBA restrictions are at the center of Cuban's 180-degree philosophical change.
In the past, he would pursue trades and take back bloated salary that added to his luxury tax bill. He was happy to pay the phasing-out dollar-for-dollar luxury tax in the name of acquiring the player or players he wanted in order to keep his teams consistently competitive. It's a strategy Cuban believes is no longer sustainable under the new rules.
It has little to do with the coming luxury tax that grows larger for every $5 million spent over the cap and a one-time crushing hit for taxpayers in any four out of five seasons.
Starting next summer, and more pertinent to Cuban, teams above the tax apron can no longer receive a player in a sign-and-trade. If the rule had been in place this summer, the Lakers would not have been able to deal for Steve Nash. Next summer, the Lakers and Nets will be prohibited from making sign-and-trade proposals for Dwight Howard, if he has yet to be dealt, or any other player. They also won't have the cap space to sign Howard outright as a free agent.
The Mavs, one of three teams along with the Nets and Lakers on Howard's original trade list, will weigh heavily in both potential discussions.
"It will be interesting to see what happens next summer," Cuban said, "when we hear lots of talk about teams not being eligible to receive free agents in sign-and-trades due to being over the tax apron."
Teams over the luxury tax apron also will not have access to the full midlevel exception of $5 million, instead relegated to the taxpayer exception of $3 million, a significant blow when trying to sign a quality veteran player.
Cuban's strategy is obviously not without risk, as the all-or-nothing pursuit of Williams proved. The Mavs then lost Jason Terry and Jason Kidd to free agency, and Cuban and company were getting ripped for a grand offseason failure that threatened to plunk them in the lottery.
They responded with a show of resourcefulness in acquiring five interesting players, and all at low cost and with short-term contracts. The moves might not make the Mavs bona fide contenders, but they should be entertaining and make the playoffs. And, unlike the Nets, Knicks and Lakers, they will be flush with cap space to either sign a max-contract free agent next summer or potentially nab one at some point from a team that wants out from under a weighty contract.
That's the plan, anyway. Of course, Howard might not reach free agency next summer. The same goes for Chris Paul and Andrew Bynum. The Mavs' strategy won't change. They'll remain patient and seek creative trades for players on expiring deals (such as Darren Collison) and players who slip through the cracks (such as O.J. Mayo), and sign them to reasonable, short-term deals.
At some point, the Mavs believe, their ability to absorb contracts with cap space will facilitate a major trade, or being a rare big-market team with cap space will ultimately land a big fish in free agency.
If either occurs, be sure that Cuban won't be afraid to cross the luxury tax line on a year-to-year basis to build a contender around a superstar with an eye on only the four-in-five chronic taxpayer crackdown.
"I expect to go into the luxury tax in the future," Cuban said, although declining to specify the obvious scenario in which he would. "I'm not going to lay down my cards in public."
ESPNDallas.com
Jeff Caplan joined ESPNDallas.com in December 2009. Jeff covers the Mavericks, Rangers and colleges. He has a wealth of experience in the area, covering multiple beats in his 11-plus years with the Fort Worth Star-Telegram.