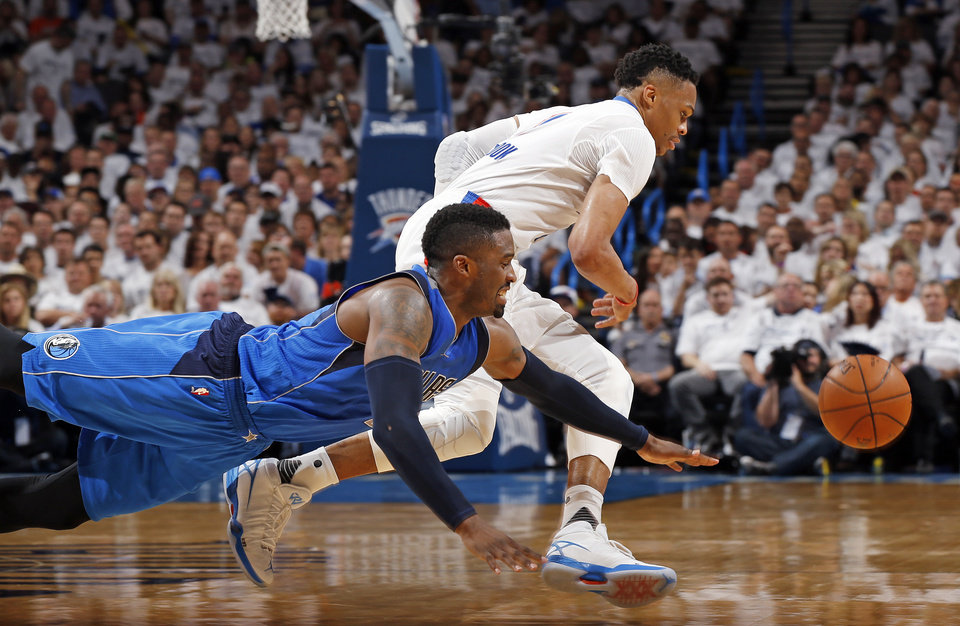 Sometimes it's easy to forget the circumstances that surrounded Wesley Matthews signing with the Dallas Mavericks last summer.
Front office duo Mark Cuban and Donnie Nelson were courting Matthews and Clippers star DeAndre Jordan simultaneously with hopes of adding both to their Chandler Parsons/Dirk Nowitzki duo to form a loaded starting lineup to battle the Western Conference for the final few seasons of Nowitzki's Hall of Fame career.
For a few days, the Mavericks had both committed to signing four year contracts.  It's certainly well-chronicled what happened next, but what can be swept under the rug over the course of time is how Wesley Matthews chose to honor his commitment with Dallas even though Jordan famously didn't.
A combination of his loyalty and a new slew of open salary cap space for the Mavericks led to a generous revision to Matthews' contract.  Instead of the 4 year/$57 million deal Matthews agreed to when it was thought DeAndre Jordan would be in tow, the then 28 year old landed a new $70 million contract for the same number of years.
Dallas was pulverized for giving that type of contract to a veteran player coming off a potentially career-ruining Achilles injury that he suffered just four months before.   Even though Dallas was confident enough in his recovery to give him a 4 year max-level contract, most in the organization gave him no chance of being ready for the start of the season.
Wesley Matthews was not only there on opening night, he was there all season.  He led the Mavs in minutes per game with close to 34, total minutes played with 2,644 and finished behind only Raymond Felton in games played on the team with 78.
Even though he has always been on the court for Dallas this season, it hasn't always been easy or pretty.  Matthews averaged his fewest points per game (12.5) since his rookie season had his lowest overall field goal and three point shooting percentages (39% and 36% respectively) of his entire seven year career. Putting up those numbers while being the highest paid player on the team with a salary of over $17 million, couldn't be easy for the prideful Matthews.
Every Mavs fan has had countless moments where frustration boiled over with Matthews missing open three point shots or seemingly to trying to avoid being involved on the offensive end at all.  For the most part, the first two games of the Mavs/Thunder  first round series have been no exception.
Through the first two games of the series, Matthews has shot an abysmal 6-21 from the field with that including a dreadful 1-13 from beyond the arc.  Despite a terrible statistical line in both games, Wesley Matthews should be praised just as much as Raymond Felton for the Mavs' strong 4th quarter to stun the Thunder in game two.
The 6'5 winger in his seventh year out of Marquette made only three shots in the entire game.  Hell, he didn't even make his first until there were just over six minutes left in the game.  However, they could be called the most important three baskets of the game for Dallas.
With the Mavericks trailing 76-69 following an 8-0 run by the Thunder, Matthews got the ball on the right wing and made one of his best plays of the season.  After catching the ball on the right corner, Matthews put the ball on ground drove past Kevin Durant, absorbed contact from Enes Kanter at the hoop and finished with an impressive layup.  After Russell Westbrook nailed a pull-up jumper to respond, Matthews scored again on Dallas' next possession with a tough, isolated jumper over the extended arms of Thunder wing Dion Waiters with the shot clock winding down.  The third of his three big baskets came on a hustle play in the final seconds where he willed a loose ball away from Kevin Durant and then finished a tough layup in transition to put the Mavs up by 4 with just 15 seconds remaining.
While his big baskets won't be forgotten, it is the defense Matthews has played that should earn him eternal respect from Mavs fans.  It's hard to recall a wing defender who has played better defense in a Dallas uniform during the Nowitzki era.  Despite being five inches shorter than Kevin Durant, Matthews has done a tremendous job limiting the former MVP's impact in the series so far.  Kevin Durant shot an atrocious 7-33 from the field in Game 2.  While that doesn't rest solely on Matthews' shoulders, he was the one picking up the assignment of defending Durant more or less the entire time he was on the court.
Mavs fans or the Dallas coaching staff can't realistically expect Matthews to hold Durant to a 20% shooting night for the remainder of the series, but it is certain that he is going to bust his behind trying.
That's what make Matthews such a vital part of this organization's future.  He has the mental makeup of a champion.  Maybe not the size, athleticism or skills of one, but definitely the mind and heart of one.  Remember what former Houston Rockets coach Rudy Tomjanovich once said: "Don't ever underestimate the heart of a champion."  With Matthews being one of the major vocal leaders in the locker room, there are only positive things that can become of his teammate's mindsets.
For Dallas to pull off this upset of Oklahoma City, they're not going to be able to do it based on skill.  It's going to be because the entire team adapts the aggressive, courageous character of Wesley Matthews and executes coach Rick Carlisle's gameplan to perfection.
It hasn't been the best season of Wesley Matthews' career, but there's no chance the Mavericks could be where they are without him.