Joey Gallo is entering his fifth big league season (limited time in 2016), and fans are on the fence about what to make on the left-handed slugger. It symbolizes an old-fashioned political debate on which party a Rangers supporter is on. Some state that things haven't and won't get better for the Rangers slugger, therefore the team should trade him. However, others vision tremendous things for Gallo in the future and massive improvements.
Whichever side you're on, everyone can agree on two things: He is a powerful guy with a robust bat that can do damage to a baseball. Also, he's a contributor to help the animal kingdom with the adoption of a baby Kangaroo earlier this month.
2018 Recap


Contract: Pre-Arbitration eligible, becomes arbitration eligible after this season and officially becomes a free agent in 2023.
Evaluating Joey Gallo's season in 2018 depends on the assessor's definition of a success. For young players in the majors, the primary goal season to season is improving their overall approach. Has he enhanced his strategy at the plate and on the field? If that is your expectation, then it was a successful campaign for Joey Gallo last year. Despite the tilted decline in batting average and on-base percentage, Gallo became more productive with runners on base. His productive out percentage, percentage of runners scoring, and advancing runners all raised in 2018. In addition, Joey drew the tenth highest number of walks in the American League with 74 last year.
🌵 @MLBNetworkRadio at #Rangers camp 🌵

Two things about Joey Gallo: Don't call him a DH, and don't steal his shades. pic.twitter.com/6gSK5Mn8l9

— MLB Network Radio on SiriusXM (@MLBNetworkRadio) March 5, 2019
After the All-Star break, Gallo showed signs of trading power for contact. For example, Joey hit .239 with an on-base percentage of .340 and reduced his strikeout frequency by one percent. Overall in 2018, Joey struck out at a lower rate than in 2017 despite the number increasing numerically. Gallo's barrel per plate appearance was the highest in the majors, by a large margin. All that implies is that Joey squared the baseball harder and louder than any other player in baseball. Overall, it was a successful season of tweaks that can go a long way for Joey.
The defensive pride of Joey Gallo was on full display in 2018, and the output showed. Gallo only committed three errors in 1163 innings last season, one of those at first base where he'll likely see limited or no time.
Gallo also had, by far and away, highest % of barrels per batted ball events pic.twitter.com/UogSYXk2MV

— Jared Sandler (@JaredSandler) March 3, 2019
2019 Outlook
This season outlines as a stepping stone for Joey Gallo. He's developed in spraying to the middle and opposite field the past few years. Gallo's pull percentage was at its lowest since 2014 when he was in high A ball (pull percentage was 45.1% in 2018). His final five home runs last year were either to left center or dead center field.
The main focus area for Gallo in 2019 is pitch recognition and plate discipline. If Joey avoids chasing those tough off-speed pitches outside the zone, it'll provide him with more favorable counts. Thus, he can be more selective and do his damage (way easier said than done). The approach is the main key coming forward for Joey. Yes, the shift will continue on Gallo, though it may be eradicated in the near future, but expect a little more strength to the other side of the field. Gallo and the Rangers have even hinted at an occasional bunt to the third base side which I'm sure will result in fans screaming to the sky in pure happiness.
Regarding Joey Gallo in CF, Woody said that he wants DD to be the team's CF but if Joey needs to play he's fine with it. Said he rates really well in CF. Believes combo of Joey's athleticism and arm could translate into him becoming one of best OFs in baseball.

— Jared Sandler (@JaredSandler) February 26, 2019
Defensively, there's no need to agonize about Gallo. Instead, fans should embrace Joey as a player with potential to be a top tier outfielder. Chris Woodward stated that he'd use Gallo in center field to backup Delino DeShields (with good reasons). Plus, Woodward spoke about Joey being a threat on the bases which is something fans may see in 2019.
One key for Gallo is getting off to a decent start. The past few seasons, Gallo's reputation results to a struggling beginning to the season followed by racking up hits after the break at a brisk pace. Not as rapid as his kill count on Fortnite, but close enough (I am a witness to that). If he can stay consistent throughout the season, that will aid in an inclining 2019. Sure the basic metrics may not be sexy at the end of the day, but in today's age, scouts and teams focus more on the advanced stats than just the primary line. Joey talks about how evaluating analytics benefits him and other players in assessing each player individually.
If you're scaling a mountain, you have to climb from the bottom to the top. That's where Joey Gallo is at in his young career. He may not be as close to the top now, but a solid season and continued improvements will get him closer to the top of the peak. Even Joey spoke about the work he and Luis Ortiz have done in the offseason and spring training. The Rangers have talked to Gallo and his agent, Scott Boras, about a long-term deal, which Joey is open to. However, there hasn't been a deal… yet.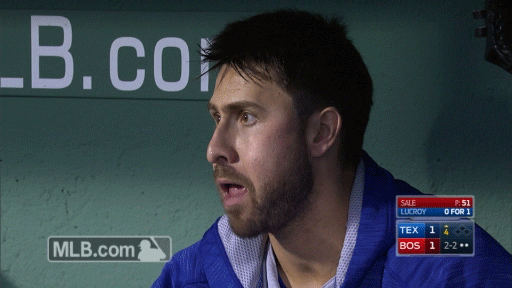 2019 Projection

COVID-19 Latest News and Information