Nomar Mazara's 2018 was shortened a bit due to a brief stint on the injured list with his right thumb. However, that did not stop Mazara in reaching the twenty home run mark for the third consecutive season (all three seasons of exactly twenty home runs each). In reference to the basic hitting numbers, Mazara's 2018 showed similar signs of 2017. His batting average slightly increased (.253 to .258), his on-base percentage slightly decreased (.323 to .317), and his strikeout per place appearance percentage increased only by one percent (20.8 to 21.8 percent).
2018 Recap

Contract: Signed a one year deal worth 3.3 mil to avoid arbitration. He officially becomes a free agent after the 2021 season.
There are a few things that do stick out comparing the first two seasons and last year for Nomar Mazara. First, Mazara showed more patience at the plate. In 2016 and 2017, he saw an average of 3.98/3.99 pitches per AB. Last season, he saw an average of 4.09 pitches per plate appearance. In addition to that, he had a higher called strike ratio than 2017 and swung at fewer strikes.
Nomar saw nearly half as many 3-0 counts in 2018 than he did in 2017. Last season, pitchers showed more aggressiveness toward Mazara. Nomar countered that strategy with a passive approach to the plate. Passiveness is not necessarily a bad thing, especially if you have excellent pitch recognition and discipline. In 2018, Nomar made more solid contact than earlier years, but he did scatter more balls in play to his pull side than in 2016 and 2017. One could argue that Mazara got victimized by the shift more than any MLB player.
I'd say overall it was a passable 2018 for Nomar Mazara. There are a bunch of areas to improve, but Mazara did not descend to the bottom of the mountain. The passive approach, whether it was intentional or not, can enhance his game. It will allow Nomar to gauge the pitchers' speed and movement thus more solid contact and even elevate his swing avoiding the routine grounder to second. Mazara did struggle more in 2018 with runners on base and hit into a higher percentage of double plays than the earlier years. All of these declining numbers could be due to his thumb injury, which is a question for 2019. To say that Nomar took a regression this past season is a bit much, but even Mazara admits that he needs to make small adjustments to improve his game.
2019 Outlook
In 2019, Nomar Mazara projects as the starting right fielder on opening day and the top right fielder on the Rangers depth chart. Occasionally he will DH, and possibly play a game or two in left field. Commonly for a left-handed hitter, they won't see the starting lineup if a tough lefty pitcher is on the mound. However, in 2018, Mazara hit better against left-handed starters than right-handed starters. Therefore, I don't expect Woodward to sit Mazara down just for the sake a lefty starter is on the mound.
Spraying the field is the best improvement that will benefit Mazara. He fell into that pull-happy trap and with teams shifting it equals to disaster. However, if Nomar can go opposite field (even a dinky ground ball to third), teams will take notice and lay off their shifting which will open up more holes on the right side for Mazara.
2019 is the year for Nomar Mazara to showcase what he can do on the field. Now I'm not saying he needs to put out All-Star numbers, not at all. What I mean is that Nomar has the potential as a middle of the lineup guy with the power to all fields and an above average outfielder. A couple of weeks into Spring Training show the work he and Rangers hitting coach Luis Ortiz are making. Nomar is not forcing a ground ball to the right side and taking pitches the other way or chasing out of the zone pitches. There are a lot of positive qualities in Mazara's game. If he can showcase those with tweaks from Ortiz, it'll be more chill for the Big Chill in 2019. Remember folks, he's only twenty four.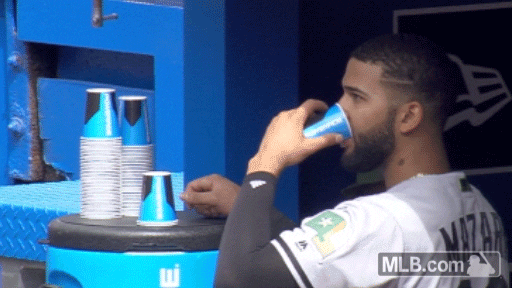 2019 Projection

COVID-19 Latest News and Information