Ronald Guzman enters 2019 as his sophomore season in the big leagues. The Rangers brought Guzman up in late April after some injuries bugged the club. It was a great sight to see Guzman not only show development on the field but how he and his personality meshed with the rest of the club. He's also a proud owner of a California condor, adopted through the World Wildlife Fund in late February.
ITS OFFICIAL!!!! 🙌🏽🙌🏽 cant really name him, but in my mind his name is #Guzzy 🤣 Welcome to the family❤️🥰 pic.twitter.com/ymJrLJVDHK

— Ronald Guzman (@_ronaldguzman) February 27, 2019
2018 Recap

Contract: Pre-Arbitration eligible, becomes arbitration eligible after 2020 season and officially becomes a free agent in 2024
The Rangers named Isiah Kiner-Falefa the team's rookie of the year in 2018 (well deserved). However, Ronald Guzman was a close second. Guzy did cool off a little after the All-Star break hitting .216. He did improve his offense in September, but his on-base percentage decreased due to fewer walks.
Looking deeper into the advanced metrics there were a decent amount of positives, especially with runners on base. Guzzy hit .283 with runners in scoring position last season. That was second best among everyday players on the club (Robinson Chirinos hit .322). With productive out chances, Guzman converted 37.5% (10% above league average). With a runner at third and less than two outs, Guzy scored the runner at a 61.9% rate (12% above league average). Finally, in situations with a runner at second and no outs, Guzman advanced the runner 76.5% of the time (25% above league average).
While statistically, the defense looked suspect, Guzman showed some incredible athleticism at first last year and this spring. In January 2018, the Rangers named Guzy the Tom Grieve Minor League Player of the Year award for his 2017 performance. Also, MLB Pipeline named Ronald the eighth best first base prospect. Guzman had the second best range factor per nine innings in the American League in 2018 with 9.22. He also turned 102 double plays as a first baseman, which was third best in the AL. It helps when your legs are flexible like an Olympic gymnast, and the wingspan compares to a mix of a condor and an Antonov AN-225 (for you airplane lovers).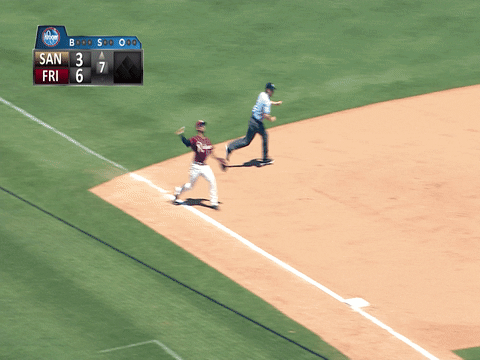 2019 Outlook
There were reports before camp that Guzman was an automatic bid at first base. While that was not one hundred percent true, the only way Guzman gets left out of the opening day roster and starting is if his spring turns out dreadful. In contrast, Guzzy's work and intensity are on full display at camp. The progress shows as witnessed by himself, the coaching staff, and the crowd but also on the stat sheet. Now his intensity hasn't quite reached the Fortnite level (trust me), but it's in the neighborhood. Here's Guzman going deep against former Rangers ace Cole Hamels in early Spring.
One thing Guzman brings is that his approach compares to most of the main types of hitters. His strikeouts aren't an abundance as some of his other teammates. He scatters the field beautifully (he nearly scattered his hits to center as often he did to his pull-side in 2018), he draws his percentage of walks, and he's able to launch a dinger on occasion. The power numbers weren't too prominent last season, but with every rookie, it's a work in progress.
Overall, 2018 was an excellent starting point to what projects as a good career for the Dominican native. The tweaks and adjustments are on display already in camp, and the results show. If Guzman keeps the improvements going, and the development continues like last season, you'll be hearing a lot more "Okuurrrrt" coming from the condor, the clubhouse, and even the fans in 2019. Plus, don't challenge him to a dance off, it won't end well, for the challenger.
Both @OrbitAstros & Ronald Guzman showed off their top-tier dance moves.

📰: https://t.co/MQqf9bNprw pic.twitter.com/Vzv5SseUOb

— Cut4 (@Cut4) July 29, 2018
2019 Projection