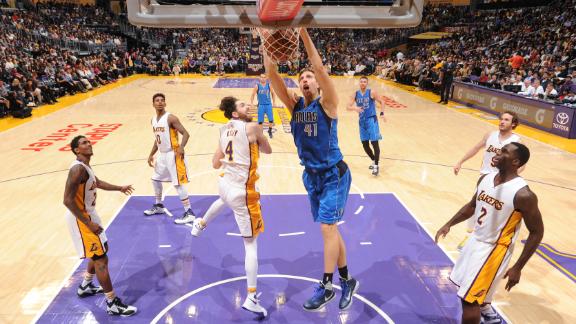 Andrew D. Bernsetein (Getty Images)
If you had the Mavericks entire starting five healthy by game number 3, raise your hand.
The full strength Mavs squad rolled over the Lakers Sunday night, riding a hot start to a 103-93 victory over the Lakers. They were led by a vintage Dirk Nowitzki performance, as he poured in 25 points on 10 of 13 shooting with 9 boards.
It's not about how you finish, but how you start…
The Mavs came out swinging in Hollywood, opening up the game on a 15-0 run. They were looking to hit Dirk early and often, as he hit his first two 3 balls of the game during that stretch to get the big German hot. The Mavs would never look back and had control over the game from the start.
Tribute to Vince Carter:
Mavericks fans need to cherish every Dirk dunk we see from here on out, because they are few and far between. In the first quarter, the spry 37 year old spun around Lou Williams and threw home a two-hand jam, in which he followed with a "rev it up", a la Vince Carter. It's always fun watching Dirk celebrate dunks.
Parsons return:
It was nice to see Chandler Parsons back on the court, although his play wasn't very pretty. The small forward shot just 1-6 in 12 minutes of action. It will take time to see the 2nd year Mav to return to top form coming off major knee surgery.
Zaza is relentless:
Have we ever seen a Maverick center attack the offensive glass as much as he does? It seems Zaza Pachulia is constantly after every loose ball. The big man had his second double-double in 3 games this season, pouring in 16 points and 12 boards.
Congrats Coach!
Coach Rick Carlisle passed Don Nelson in his 340th Maverick win, to become the all-time winningest coach in franchise history.
Player of the Game:
Dirk. Enough said.
Up Next:
The Mavs finally get to play a home game this season, as they welcome the Toronto Raptors (3-0) in to town on Tuesday.