Welcome to the Charles Schwab Challenge, the official re-start spot for the PGA Tour that happens to take place at Colonial National Country Club in Fort Worth this weekend.  For months we've waited for sports to return and the PGA Tour is among the first to get back to some semblance of normal.
THE COURSE
Colonial Country Club is the longest standing non-major venue on the PGA Tour.  It has been hosting events regularly since 1946.  It's a par 70 course that plays around 7,200 yards – it's not a long hitter's course but that doesn't take away from player's ability to score.  In fact, only once in the last twenty years has a winner come in at single digits (Adam Scott -9 in 2014.)
When players walk onto the first tee they're greeted by the Wall of Champions.  A massive and inspiring wall engraved with the winners of the past.  Every course highlights their winners, but no one does it quite as well as Colonial.  Also, it'd be a crime not to note that all-time legend Ben Hogan has won here five times.
Now, onto the course.
Colonial lulls players in with an immediate birdie opportunity on hole #1.  At 565 yards, the dogleg right par five is manageable for everyone on tour.  Things continue to head right at hole #2 with a short dogleg right par four.  Despite both greens being guarded by bunkers to penalize a short approach, players should be able to manage a low start to the day.
Heading to three is where things get murky.
Known as the Horrible Horseshoe, holes three, four and five consistently rank among the hardest stretches on the entire PGA Tour circuit.
#3, Par 4, 483 yards
Massively bending from right to left, players will look to clear the left fairway bunkers.  Longer players needing to opt for 3-wood or risk shooting straight through the fairway and ending up in the trees.  The green is guarded by surrounding tree-line with just itching to slap a ball down.  The green itself has a false front leading back into the fairway.
(Photo by Mike Bailey/Golf Advisor)
#4, Par 3, 240 yards
It'll take a real golf shot to get it in close.  A big slope leads into the green which disables players from landing it short and hope it releases towards the pin.  A bunker located front right is a manageable miss as it offers a pretty easy shot for these guys.  Going long here will make for a tough chip as you reintroduce that slope.  If you make a three here you're doing really well.
#5, Par 4, 481 yards
The first thought on this tee is typically "Where's the damn fairway?"  The shot is essentially a big slice around a massive dogleg right.  Tree lines run down both fairways – just begging for a golf ball or two.  Ideally, players want to be up the right side.  It opens the green up and makes for a safer second shot.  The green is sandwiched by two decent sized bunkers and carries a ridge that will really hurt if you miss.
(Photo by Mike Bailey/Golf Advisor)
On this shot-makers course, littered with tree lines, guys that play this stretch of holes well will surely be there late Sunday afternoon.
Outside of this stretch, Colonial offers challenges for every type of player.  Whether you're a big bomber like Dustin Johnson or more of a pure shot maker like Zach Johnson, there's something to make everyone uncomfortable.
And of course, no stop on tour is complete without a tough, memorable 18th hole.  Colonial's version is a tough 441-yard par 4.  Off the tee, the hole dog legs left with a creek down the right side.  Still, players will look to land it on the right, kicking off the hill and leaving a 135-140 yard shot into a heavily bunkered green – not to mention Crampton's Lake.  In 2008, Phil Mickelson hit a ridiculous shot from the trees to eight feet to solidify the win.
THE FIELD
Due to the COVID layoff, this year's field is stacked with players itching to get back to competitive golf.
The featured groups for the first two rounds:
Rickie Fowler, Justin Thomas, Jordan Spieth
Thursday: 12:55 p.m.
Friday: 7:45 a.m.
Rory McIlroy, Jon Rahm, Brooks Koepka
Thursday: 1:06 p.m.
Friday: 7:56 a.m.
Bryson DeChambeau, Dustin Johnson, Justin Rose
Thursday: 7:45 a.m.
Friday: 12:55 p.m.
Phil Mickelson, Kevin Na, Gary Woodland
Thursday: 7:56 a.m.
Friday: 1:06 p.m.
Here are some betting odds for the gamblers out there courtesy of the Action Network :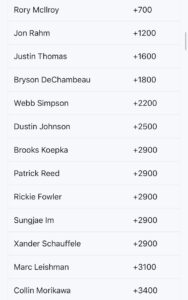 Some other notables are US Open champion Gary Woodland and Dallas native Jordan Spieth at +4200 and defending champion Kevin Na at +5000.
MY PICK
Rory McIlroy.  Before the pause, Rory played in six events, made six cuts and netted six top-10's – including a win at the WGC-HSBC Champions event.  He was part of the TaylorMade 4-ball that reminded everyone how much we missed live sports last month.  He's currently the best player in the world according to the World Golf Rankings and I can't imagine the rust will hold him back in the slightest.
OTHERS TO WATCH:
Justin Thomas +1600
Xander Schauffele +2900
Kevin Kisner +6500
HERE'S HOW TO WATCH:
Thursday, June 11
7:45 AM-7:00 PM, ET   PGA TOUR LIVE
Noon-4:00 P.M. ET        GOLF Channel (PGA TOUR Live)
4:00-7:00 PM, ET           GOLF Channel
Friday, June 12
7:45 AM-7:00 PM, ET   PGA TOUR LIVE
4:00-7:00 PM, ET           GOLF Channel
Saturday, June 13
7:45 AM-6:00 PM, ET   PGA TOUR LIVE
1:00-3:00 PM, ET           GOLF Channel
3:00-6:00 PM, ET           CBS
Sunday, June 14
7:45 AM-6:00 PM, ET   PGA TOUR LIVE
1:00-3:00 PM, ET           GOLF Channel
3:00-6:00 PM, ET           CBS
This is a magnificent field at a wonderful golf course located right next door in Fort Worth.  I really can't wait.