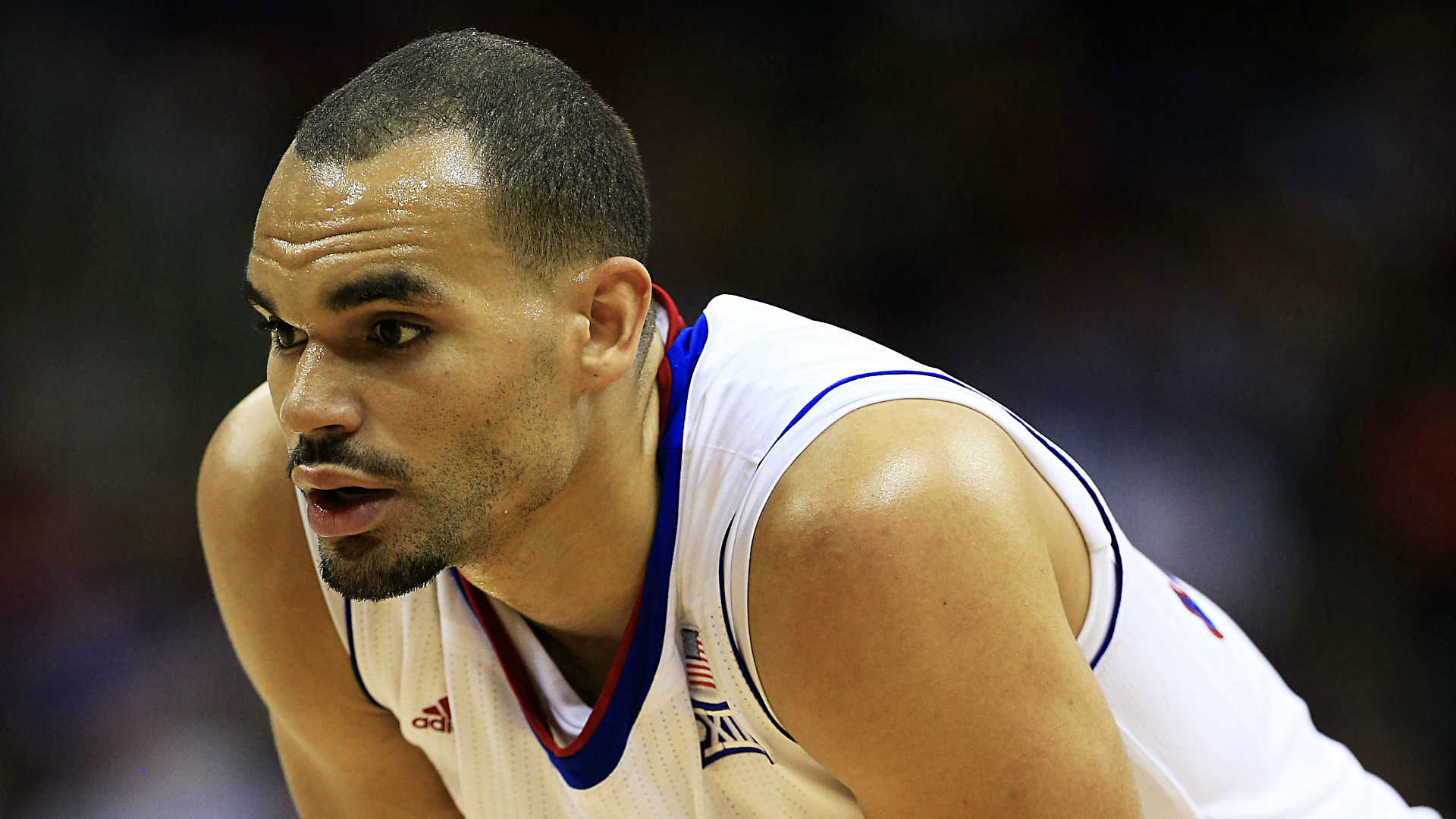 Dallas Mavericks fans will analyze 2nd Rd pick, AJ Hammons during the summer league in Las Vegas. Fan overreaction is almost a guarantee every year. I.E. Dominique Jones. It's an exciting time for both fans and franchises. Cuban and Co. will be sure to have their rabbit's foot on hand in Sin City. Hammons could be the steal of the draft due to his length, size, skill set (both sides of ball) and explosiveness. AJ is the easy choice for who Mavs fans should be anxious to evaluate this summer. With that being said, don't sleep on Perry Ellis.
PF Perry Ellis – 6'8, 218lbs – Senior Stats:
16 PPG
5 RPG
43% 3-Pt
53% FG
78% FT
STRENGTHS: At 22 years young, the former Kansas Jayhawk has great footwork in the paint (loves his pivots/spins), is an exceptional mid-range shooter, and is effective off the dribble and with his back to the basket. Although his defense on the block is closer to mediocre, he's at his best defensively when further away from the bucket. Ellis is a high character guy and improved every year during his stay in Lawrence.
WEAKNESSES: At 6'8, his lack of pure athleticism has pushed him into NBA limbo- between SF and PF. His rebounding needs to improve in order for him to see success at the PF position. Ellis needs to bulk up and show he can put on good weight. In the last 7 years, he has only added 12 lbs. Finally, his hairline is bad.
Speaking of hairlines (or lack thereof), Ellis could be a candidate for the next Custodian. Perry Ellis and Brian Cardinal have similarities outside of just hairstyles. Both are 6'8 PFs who are above average 3-pt shooters that wear the hats hustler and reliable. Ellis isn't without flaw, but his role player ability is NBA ready. Both Ellis and the Custodian have that old man YMCA type game- frustrating, boring and efficient.
Keep a close eye on the former Jayhawk this summer. I imagine his performance to imitate that of a veteran still trying to make a roster by knowing his role, playing smart and providing production. As unsexy as that sounds, it would be huge coming from a rookie who is only 22 that had an ascending collegiate career. Dwight Powell is the only true reserve we have for Dirk Nowitzki at PF. Ellis would provide relief by stretching the floor and playing with impressive Basketball-IQ.
Doesn't he already sound like Carlisle's new pet, the Custodian 2.0? Vegas odds may be against him to make the squad, but don't sleep on Perry Ellis.