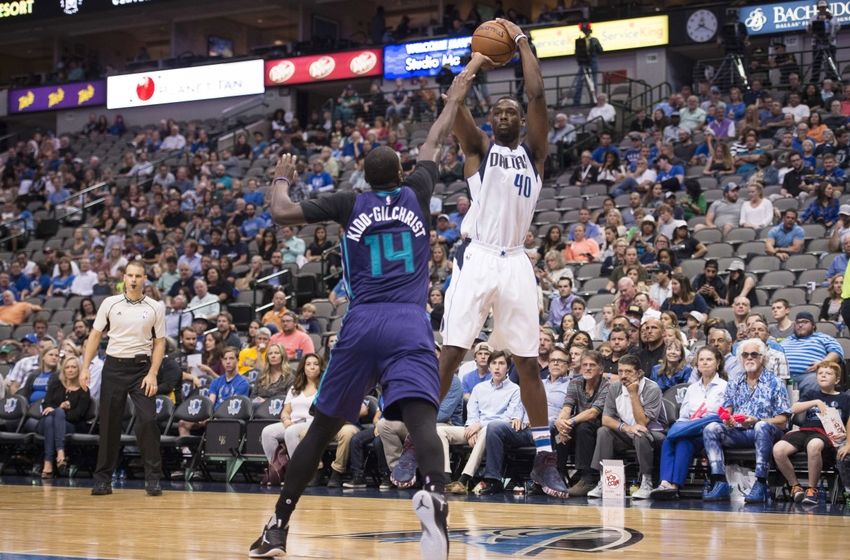 Last Tuesday, the great Zach Lowe of ESPN put out an article with some of his crazy predictions for the 2016-2017 NBA season.  He threw out some pretty interesting ones, but the one that stood out was that he thinks the Mavs are missing the playoffs.
Tap the breaks, pal.  We've all been reading your love-laced articles about Dirk and the boys for years and now you're going to hit us with a shot like that? Well, you're not alone thinking that way; so MFFL's can't get too upset.
With the season opener just a few days away, why don't we make our own crazy predictions for the 2016-2017 Dallas Mavericks?
Dwight Powell's Contract Extension Will Look Like the Steal of the Summer
It's not going to be easy for any of the contracts of the 2016 NBA summers to look that great. It was an insane spending spree with the rising salary cap allowed for over $1.8 billion in contracts to be in place less than 48 hours into free agency in early July.
Many scoffed at the Mavericks resigning Dwight Powell to the 4 year, $36 million contract he signed this summer.  Most likely think of the third year big man out of Stanford as a backup big who logs at most twenty minutes a night.  Powell finished last season well with a big performance in game five of the Mavs' first round series with the Oklahoma City Thunder.
The 6'11" big has even reportedly bulked up this offseason; describing the muscle he gained as "useful."  His increased size will make his athleticism and energy an even bigger plus when he's used as a change of pace to either of the older, slower starting big men in Dirk Nowitzki and Andrew Bogut.
If Powell can show that he can stretch the floor with his jump shot more consistently and control his energy in ways that keeps him out of foul trouble, Coach Rick Carlisle will have no choice but to find ways to give Powell a heavy minute role that eluded him for long stretches of last season.
Harrison Barnes' Deal Will Look Like the Worst Deal of the Summer
Okay, before you freak out and label me as one of those haters who just looks at Harrison Barnes' 2016 NBA Finals performance and thinks he's garbage… hear me out.
I don't think that, by the way.  The guy had a bad couple weeks.  The problem is, his preseason performance is looking way too similar.  He seems lost on offense and that's just not going to cut it on a team that is desperate for someone to step up and take the reigns from Dirk Nowitzki as the team's leading scorer.
Barnes isn't going to be that guy this year.  At best, he'll be what Shawn Marion was to the title team: Indispensable defender and rebounder; you'll never run a play for him on offense, but he'll have a random 20+ point night when he's feeling it.
I think he'll develop into more than that as his enormous 4 year contract goes on, but that will be a tough pill to swallow for some impatient MFFL's.
Side note: We're in the middle of this "one and done" player area where if you're not out of school and an All-Star by 22, there's no chance you'll ever be more than a role player.  Have some patience, people! Late bloomers are okay too!
The Mavs Will Have Their Best Home Record Since Their Title Season
Achieving this actually wouldn't be that impressive considering how bland Dallas has seemed to play at home this decade.  Their 23-18 mark at the all-too-friendly confines of the American Airlines Center was a metaphor for their mediocre play overall for the entire 42-40 season.
I'm basing this off of two things: the increased youth on the roster and a few nice home schedule breaks.
If anything, the energy and legs that will come with the Mavs' increased reliance on younger players will provide a kind of enthusiasm and spark that the veterans just aren't always to find for those Tuesday night matchups with the Nuggets.  They'll play to the crowd and probably help get the AAC be louder than it has been for regular season games in years.
They also only host the Warriors once, so that's one less guaranteed loss, right?
Dirk Nowitzki Will Be This Team's Leading Scorer and That's Okay
The Mavs have been desperately searching for someone to take the leading scorer baton from Nowitzki every summer since 2012. Unfortunately, I think the best chance they had in having someone fill that role is going to be playing 60 to 65 games for the Memphis Grizzlies each of the next four years.
This won't be the Mavs' undoing this season, however.  There are several players on the roster capable of having a big night when Dirk isn't able to carry the load.
Deron Williams led this team in scoring during a win four times last season. J.J. Barea did it five times.  Despite his very disappointing first season in Dallas, Wesley Matthews was able to reach that mark twice last season as well.
Like I said earlier, Harrison Barnes will likely be able to break off a 20 point performance once every couple of weeks.  Maybe even Steph, I mean SETH Curry will have a routine big time night.  The point is that even though Dirk will likely end up being this team's leading scorer again this season, there are players on this roster capable carrying the scoring load whenever the Big German might be having a night off.
It still might be nice to have someone ready to carry the offense when he's gone relatively soon…
The Mavs Will MARGINALLY Increase Their Win Total From Last Season, But We'll Be as Optimistic as If They Won 50 Games
For perhaps the first time this century, the Mavericks will be doing plenty of relying on players below the age of 30.
While the likes of Dirk, Deron Williams and Andrew Bogut will all have a major impact on the success of this season, it will be the young guns like Harrison Barnes, Justin Anderson, Dwight Powell and Seth Curry are going to be the legs and engine that allow this team to make it through and 82 game regular season.
Even if they end up in the all too familiar fight for the 7th or 8th seed in the West, there will be reason to be optimistic for this team's future because they have younger players under contract.  There will be something to build on going into the coming years.  Dallas has done a ton of plugging up roster holes with veterans on one year deals in recent years, but their drafting of Justin Anderson and acquisition of Dwight Powell in the Rajon Rondo trade seems to have influenced them to put some of their stock into younger players. A strategy that essentially every other team in the league abides by routinely.
So we're just a few days away from opening night in Indianapolis.  This Mavs team has a few questions to answer as the season goes on, but there's the potential for this to a special team.  A solid collection of experience and youth.  A nice collection of outside shooting and great perimeter defenders.  Let's get this season going and see what this team has to offer!