The center position in the NBA has now become one of the hardest positions to come by.  A good healthy, lane closing center will very rarely just be picked up in free agency.
Unfortunately for the Mavs, as witnessed this past year, that is exactly what we need to play alongside Dirk. While there are opportunities for trade acquisitions, such as Omar Asik (Traded to New Orleans) or a Tyson Chandler (Traded to Dallas), only the free agents will be examined.
1. Chris Bosh | Heat (
Early Termination Option

)

16.2 PTS 6.6 REB

A Dirk/Bosh combination would not be ideal, but as far as the best basketball player in this free agent crop, Chris Bosh is the best center that could potentially be available.

While underutilized in Miami he could go back to his Toronto dominating days if he was on a team that ran an offense based off of ball movement. No center in the NBA can be a big factor with the amount of isolations the Miami Heat run.

He isn't the defensive force the Mavs need but a Bosh/Monta Ellis pick and roll would be absolutely deadly.
2. Marcin Gortat | Wizards (Unrestricted)
13.2 PTS 9.5 REB
Gortat will surely be highly coveted player this offseason by just about every team with enough cap space. He is versatile, quick, and has a high offensive IQ. He also showed during the playoffs that he can patrol the paint and be a good defender.
Gortat averaged 1.5 blocks per game last season even with virtually another center playing alongside him in Nene. Gortat alongside Dirk would be a great fit as Gortat primarily plays inside the paint giving Dirk plenty of room to operate. He also is a smart passer making a potent Dallas offense even more intimidating.
UPDATE: Tyson Chandler trade takes Dallas out of potential chase for Gortat, whom the Mavericks like but understood a bidding war price might get too high.
3. Greg Monroe | Pistons (
Restricted

)

15.2 PTS 9.3 REB

At only 24-years-old, most teams in the NBA would love to give the young center a huge contract.  With not enough room in Detroit for Monroe and Andre Drummond, I anticipate Monroe being available.

Monroe has not proven to be able to be the guy that can dominate on the defensive end, however, he has not been given much of an opportunity since his teammate, Drummond, is one of the best shot blockers in the league.

While his chemistry with Dirk would need some work I'm always in for having a chance at an up and coming center like Monroe.
4. Pau Gasol | Lakers (Unrestricted)
17.4 PTS 9.7 REB
Pau Gasol as our starting center would be a huge upgrade. The 7 footer has proven to be able to patrol the paint on defense and is an outstanding rebounder. Gasol and Calderon are good friends from the Spanish national team so he can be our best recruiting tool.
He is a smart player and doesn't need much coaching, he could immediately help this team greatly and would be an awesome piece for Dirks last years in the NBA.
Gasol appears much less likely with Chandler back and Calderon out the door.
5. Spencer Hawes | Cavaliers (Unrestricted)
13.2 PTS 8.3 REB
If we strike out on the top four in this list or can't find someone to trade for the next best option is Dalembert/Spencer Hawes at center.
Hawes does not play a ton of defense, but at 7'1" Hawes is a viable option. The thing working for his favor is he has never played for a contender or with the true professionals that he would if he were in Dallas.
Hawes has shown flashes of brilliance the last few years and with the right teammates and coaching could turn into a threat down low that wouldn't come at the price as the other centers on this list before him.
6. Andray Blatche | Nets (Unrestricted)
11.2 PTS 5.3 REB
Blatche is an under the radar center that could be a potential target for the Dallas Mavericks. At 260 pounds Blatche is a big body that could share time with Samuel Dalembert.
Although his character has been an issue, we have seen in the past there is hardly a better team that can control attitudes than the Mavs and Rick Carlisle.
As I have said before the center position is really a difficult position to obtain, while numbers 7-10 on this list may make you cringe, as far as free agents go they are our next best option.
7. Andrew Bynum | Pacers (Unrestricted) 
8.7 PTS 5.6 REB
Ever since Bynum took a cheap shot to J.J. Barea in the 2011 playoffs his career has spiraled.
Only playing 26 games last season injuries and character have taken the once superstar potential center into a nobody.
Rumors and scandals plagued his stay in Cleveland, then he went to the Pacers where he made virtually no positive impact. The only way the Mavs sign Bynum is through a cheap contract and an evaluation to see if he can still play.
8. Emeka Okafor | Suns (Unrestricted)
Did Not Play in 2013-2014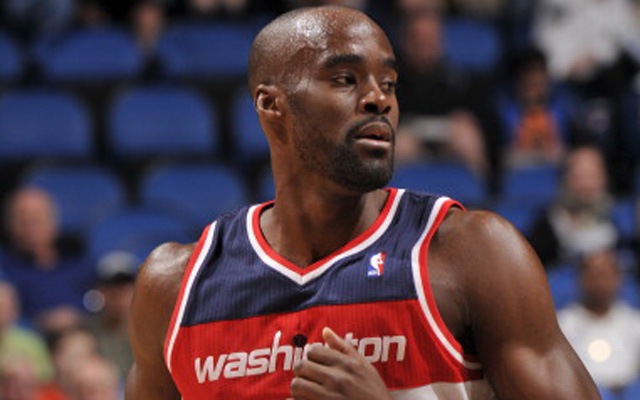 Another injury plagued center, Emeka Okafor missed the entire 2013-2014 season and has really diminished as a player. Much like Bynum the only chance we have to sign Okafor would be a thorough evaluation to see if he still has something left in the tank.
9. Chris Andersen | Heat (Unrestricted)
6.6 PTS 5.3 REB
Certainly not a starter by any means the "Birdman" would only be a Mavs player coming off the bench, something the Mavs really don't need. He shows flashes of being a solid center and comes off the bench with plenty of energy.
10. Jermaine O'Neal | Warriors (Unrestricted)
7.9 PTS 5.5 REB
Hard to believe the 35 year old is still playing in the NBA considering how many injuries the once star for the Pacers has gone through.
O'Neal absolutely shocked the NBA showing he still had room in the tank last season getting some pretty serious minutes after Andrew Bogut went down with injuries, which is something Bogut is known to do.
Another rotation player, O'Neal could help with depth at the Center postion for the Mavs, but again, the Mavs really need a starter.