Thursday's afternoon contest against the Oakland Athletics will mark the halfway point of the 2021 season. While this month had its ups and downs, the Rangers finished off strong, winning six of their last nine games to close the month. The offense is clicking. Texas is getting decent starting pitching, and playing well on defense. Therefore, we wind down this Pride Month with some notables in June, where the Rangers finished 9-16.
Player of the Month: (Joey Gallo)
If you asked me this question last week, it was an easy choice, Kyle Gibson. However, Joey Gallo turned some Super Saiyan switch and tee'd off. The only reason Joey Gallo's last few weeks doesn't equate to MLB's hottest hitter is that Kyle Schwarber turned into Hulk and produced ungodly numbers. Gallo finished June with ten home runs, an OPS of over 1.100, and only twenty-five strikeouts. Oh, and he walked twenty-three times (2,070 feet worth of walks). So does the question become are he and Kyle Gibson wearing these uniforms when the July awards come out?
An intergalactic #JoeyJack ☄️ pic.twitter.com/06GtkS88cz

— Texas Rangers (@Rangers) June 26, 2021
Play of the Month (6/25 – 6/26, Almost everyone)
I'm not sure if I could pinpoint the best play of the Royals' series. I mean, Charlie Culberson started it off with a bang, Eli White leaped to the foul ground wall, Isiah Kiner-Falefa went airborne, Brock Holt turned an impressive double play, and Adolis García ran down a game-saving catch. But, the bottom line, a compilation is more fitting.
Tremenda atrapada de @Isiahkf11. Simplemente WOW.@carlitosalvarez @MottaJaime @LasMayores pic.twitter.com/B2eXN1ZslZ

— FOX Deportes (@FOXDeportes) June 26, 2021
Game of the Month: (6/12 at Dodgers, Rangers win 12-1)
I know the players will say that this did not come out of the realm of possibility. However, think of the circumstances. Texas lost 16 straight road games, scored 18 runs their last eight road games, and got shelled 12-1 the night before in Los Angeles. Yet, they somehow posted their best offensive performance of the season. An exact flip of the previous night's score resulted in 17 hits, 7-for-12 with runners in scoring position, and posted the strangest team debut I ever saw from Andy Burns (his first hit as a Dodger, pitched an inning, and called up in the same day). Maybe a combination of Adrian Beltré's presence and Charlie Culberson's pitching aura from the previous night made this happen.
I think most Rangers and baseball fans know who this is. #StraightUpTX pic.twitter.com/beq0pQ4O6D

— Alex Plinck🏳️‍🌈 (@aplinckTX) June 13, 2021
Quote of the Month: (6/21 – Joey Gallo & 6/24 – Chris Woodward)
I'm torn between choosing sarcastic Joey Gallo or humorous Chris Woodward. So, therefore, I went with both. I think everyone outside of Statcast knows Joey's 431-foot homer June 21 vs. Minnesota was whack, but hey, it's science, and science has never let us down, right?
Joey Gallo on his homer yesterday measured at 431 feet,

"If that's all I got, then I'm in trouble I guess. 431 on a ball like that. I can't complain, the science behind it. I don't understand how that possibly could be 430, but I'm not worried about distance."#StraightUpTX https://t.co/TJWUzFqbAr

— Alex Plinck🏳️‍🌈 (@aplinckTX) June 21, 2021
Meantime, Jonah Heim racked up a double against his former mates in Oakland. For former players, it's always exciting to showcase what you got against your old club. I asked Chris Woodward if Jonah showed some extra giddy, and his response made me chuckle. I think Woodward is low-key hilarious (like a lot of these guys), and Jonah even made light of the moment when I asked Tuesday in Oakland.
Asked Chris Woodward since it was Jonah's first game vs Oakland, if he was more giddy last night.

"So much giddy-up that he ran into an out. I was joking around with him, he was so excited that he forgot where he was." #StraightUpTX https://t.co/L2tqyxsF9E

— Alex Plinck🏳️‍🌈 (@aplinckTX) June 24, 2021
Best Camera Bomb: (6/2 – Nate Lowe)
First off, I want to personally thank the AT&T SportsNet Rocky Mountain camera guy for capturing that moment. It's a moment that is sweeping across Rangers nation. I don't think there's more you can say about it other than Joey Gallo's camera stare in Boston years ago has some competition now.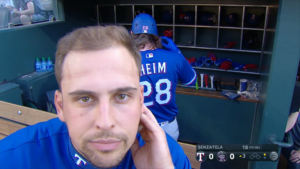 Best Celebration Picture: (6/9 vs Giants)
Walkoffs are fun, aren't they? Well, as long as your team is the one celebrating. On a getaway day at home, the Rangers furiously rallied against the Giants to snap a long losing streak against the NL West (13 games). The game ended on a Brock Holt hit, and as Isiah Kiner-Falefa was picking Holt up, Brock had that stare like he was in some other place. Brock even discussed not looking too excited. "I was in the zone. I think someone slapped me in the face, not meaning to."
No words to describe this game. #StraightUpTX

Just this: pic.twitter.com/OxSmYZQdNz

— Alex Plinck🏳️‍🌈 (@aplinckTX) June 9, 2021
Best Pitcher Hit: (6/1 – Dane Dunning)
I think deep down we'll miss pitchers hitting. Kyle Gibson likes it, Dane Dunning likes it, and even Mike Foltynewicz, who prefers American League rules, still likes it. Dane Dunning stepped to the plate on June 1. It was his first at-bat competitively since 2013. Remember what you were doing in 2013 and then June 1, 2021. That span equates to the time Dane saw competitive pitching. That said, it would only figure Dunning would single in his first at-bat. "Dane got a chance to get his first [hit] on his first dang pitch. It's exciting [when] stuff like that happens," Foltynewicz told me.
SO OF COURSE in his first AB he gets a single.

Dane Dunning is hitting 1.000 #StraightUpTX https://t.co/qJUa9Z7Yjl

— Alex Plinck🏳️‍🌈 (@aplinckTX) June 2, 2021
Cowboy Hat Look of the Month: (6/23 Mike Foltynewicz and 6/26 Joey Gallo)
Guys, I have to show some honesty. Brock Holt should have won last month. I messed up. Unfortunately, Holt didn't get the hat in June, so I cannot amend that. This month, it was a tossup between Joey Gallo and Mike Foltynewicz. I know Folty got the award in May, but he wore his hair down which earned him like 15,000 points (using the Whose Line Is It Anyway scoring system). For Joey, I don't know why, but Big Joe in that Cowboy hat works. That said, I'm cheating and giving it a tie between Joey and Folty.
Oddest Play of the Month: (6/18 Joey Gallo hits the roof)
If anyone can hit the roof, Joey Gallo can. On Friday June 18th, he made this happen and no one knew what to do.
What. Just. Happened? #StraightUpTX pic.twitter.com/iP2bbGn3jL

— Bally Sports Southwest (@BallySportsSW) June 19, 2021
Finally, want to say thanks to all the Rangers' fans for this Pride Month!
A little emotional for me today on this Sunday at Dodger Stadium for the Rangers vs #Dodgers  #StraightUpTX 

Today marks the one-year anniversary of me going public about who I am. The fact one year later I'm in LA for pride weekend covering games brings so much joy. #Pride2021 pic.twitter.com/5jkUxkRI2U

— Alex Plinck🏳️‍🌈 (@aplinckTX) June 13, 2021