The Dallas Mavericks are wrapping up what looks to be their best offseason since hoisting the Larry O'Brien Trophy in 2011. We all remember how that offseason began; the Mavs utilized the well-known DUST (Dampier's Ultimate Sign Trade) Chip for Tyson Chandler. The Mavs were hoping to somehow flip the DUST Chip for cap space in order to sign then free agent, Lebron "I'm Coming Home" James, but instead ended up with the often injured Chandler who was better known for his alley-oop dunks with Chris Paul then his defensive fortitude. Without a big name free agent the Mavs were forced to build with role players around Dirk Nowitzki.
The 2011 edition of the Dallas Mavericks were one of the most unique teams in NBA history. They weren't a team comprised of individuals, but rather a group of individuals (See: Heat, Miami) working together as a team. All 15 players on the roster had a role; and while some roles were bigger than others, each person played a valuable role in the collective goal of the team – win a championship.
Three seasons later, the Mavs offseason looks eerily similar. Lebron chose to take his talents and ego elsewhere while the Mavs utilize their Euro Chip, Jose Calderon, to bring Chandler back to Dallas. While fans are excited about the move, it doesn't thrust the Mavs into the discussion for a title and they still didn't land a big fish. Instead, they still have Nowitzki and have added key role players around him following the same blueprint from 2011.
So how do the players on this team fit into their roles compared to the 2011 Championship team? Let's take a look.
The Leader
2011 Rick Carlisle vs. 2014 Rick Carlisle
Four years later, Carlisle is still around and remains highly regarded as one of the top coaches in the NBA. He's a smart coach who has made a name for himself as a coach that can get the most out of any player. Carlisle has continued to get better each year and remains the number one strength, aside from Mark Cuban, of the Mavs organization.
The Superstar
2011 Dirk Nowitzki  vs. 2014 Dirk Nowitzki
Now 36, Dirk is four years older and a half step slower. His season averages have dropped slightly from 2011 (23.0 ppg, 7.0 rebs, 2.6 asts) to his 2013 numbers (21.7 ppg, 6.2 rebs, 2.7 asts). After an injury riddled 2012-13 campaign, Dirk came back to his usual form and earned a trip to the NBA All-Star Game in 2014. Since 2001, when trailing by 3 points or less in the final 30 seconds of a game, Dirk has the highest field goal percentage of any player in the NBA at 45.2% (19 of 42) when shooting for a tie or a lead according to Basketball-Reference.com.
The Sidekick
2011 Jason Terry vs. 2014 Monta Ellis
Last year, Monta Ellis stepped into the role of Dirk's sidekick. He proved many critics wrong who labeled him an inefficient, volume shooter by utilizing the "Dirk Effect" to get open opportunities and improve his shot selection. The Dirk and JET two-man game was resurrected and ultimately proved to be an enormous success. On paper, Monta's 2013 numbers (19.0 ppg, 3.6 rebs, 5.7 asts) demonstrate that he can easily fill the role of 2011 Jason Terry (15.8 ppg, 1.9 rebs, 4.1 asts). However, it's JET's intangibles as a leader and clutch shooter that may have Monta falling short.
Tuff Juice
2011 Caron Butler vs. 2014 Chandler Parsons
Caron Butler was the forgotten Maverick on the 2011 Championship team. During the regular season before a torn patella tendon ended his season, he averaged 15.0 points, 5.5 rebounds and 1.6 assists. He was a reliable option every night that could provide a little bit of everything. In 2014, the Mavs struck gold with Chandler Parsons (16.6 ppg, 5.5 rebs, 4.0 asts) who they hope can be the reliable second or third scoring option this season, playing the role of Caron Butler.
The Defensive Anchor
2011 Tyson Chandler vs. 2014 Tyson Chandler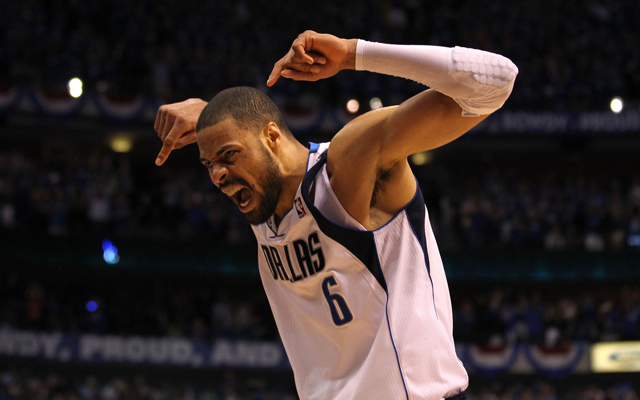 Chandler is perhaps the most valuable piece of the puzzle. Just as in 2011, (10.1 ppg, 9.4 rebs, 1.1 blks) he's in a contract year. His season averages have dipped (8.7 ppgs, 9.6 rebs, 1.1 blks) and the tag "always injured" still haunts him. After a down year in 2013, the 2012-13 Defensive Player of the Year believes he can be even better than he was in 2011.
Ole Reliable
2011 Jason Kidd vs. 2014 Jameer Nelson
In 2011, 37 year-old Jason Kidd (7.9 ppg, 4.4 rebs, 8.2 asts) was "Ole Reliable" in the Mavs backcourt. He provided the Mavs with a backcourt leader who could facilitate and consistently knock down open three-point shots (35%). At 32, Jameer Nelson looks poised to do the same as a facilitator (7.0 assists per game in 2013) and three-point shooter (35%). Though, he lacks the size on the defensive end that made Jason Kidd so unique, who was even able to guard Lebron James in the Finals at times. But hey, it's ok because we started from the bottom now Jameer.
The Defensive Stopper
2011 Shawn Marion vs. 2014 Jae Crowder/Al Farouq-Aminu
Shawn Marion was the Mavs most versatile player in 2011. He was the team's defensive stopper, often guarding the opponent's top players while boasting solid numbers on the offensive end (12.5 ppg, 6.9 rebs, 1.4 asts). This year the Mavs fall overwhelmingly short of the 2011 Matrix. In 2014, The Matrix Reloaded presents a double feature of players with solid defensive abilities in Jae Crowder (4.6 ppg, 2.5 rebs, 0.8 asts) and athletic sensation, Al Farqou-Aminu (7.2 ppg, 6.2 rebs, 1.4 asts). Both are just what you'd think: they're comparable, but the original Matrix is better.
That's Penetration Holmes
2011 J.J. Barea vs. 2014 Devin Harris
Mr. Drive and Kick at 5"8' J.J. Barea (9.5 ppg, 2.0 rebs, 3.9 asts) supplied the 2011 Mavs with a player who could break down defenses, get to the basket and score or find the open man on the wing. The 2014 Mavs have a similar player in Devin Harris (7.9 ppg, 2.5 rebs, 4.5 asts), but this time with a lot more size. Now, the only question that remains is, can he stay healthy?
The Marksmen
2011 Peja Stojakovic vs. 2014 Richard Jefferson
In 2011, Stojakovic (8.6 ppg, 2.6 rebs, 3.9 asts) had one role and one role only: to make three-pointers. And that's exactly what he did, shooting 41% from behind the arc while providing little else, finishing his career with the ninth most three-pointers made. Jefferson (10.1 ppg, 2.7 rebs, 1.6 asts) is 109th on that same list, is three years younger and has the athleticism to get to bucket and convert at the three.
The Back Up Big
2011 Brendan Haywood vs. 2014 Greg Smith
As much flack as Haywood got as a member of the Mavs, he was actually one of the top backup centers in the league in 2011 (4.4 ppg, 5.2 rebs) who embraced his role as the lace clogging big man. This year's Mavs feature a little known center, Greg Smith (3.5 ppg, 2.5 rebs), who comes to the team with little experience and a history of injuries.
Hey Youngster!
2011 Roddy Beaubois vs. 2014 Gal Mekel
Roddy B was last seen in the 2014 Vegas Summer League. In 2011, Beaubois' roll was virtually non-existent.  Expect Mekel role to be the same.
"Hey Lebron! How's my Dirk taste?"
2011 DeShawn Stevenson vs. 2014 Raymond Felton
DeShawn Stevenson (5.3 ppg, 1.5 rebs, 1.1 asts) was a significant, multipurpose role player for the Mavs in 2011, capable of hitting big time three-point shots and guarding players like his good buddy Lebron James. While Raymond Felton had a down year in New York (9.7 ppg, 3.0 rebs, 5.6 asts) last year, he at least appears to be working on his shooting, albeit illegally.
Born Ready
2011 Corey Brewer vs. 2014 Brandan Wright
With one of the deepest benches in the league in 2011, the Mavs didn't always have enough playing time to go around.  When his name was called, Corey Brewer was ready to go and even helped saved the Mavs  in a pivotal game against the Lakers in the playoffs.   The 2014 Corey Brewer will be Brandan Wright, who may be not play a significant role for several games at a time, but when his name is called he'll be ready to provide the energy the Mavs need with his length and athleticism.
The Custodian
2011 Brian Cardinal vs. 2014 Eric Griffin/Ivan Johnson
The Custodian was there to clean up the mess.  Brian Cardinal was Dirk's best friend, capable of knocking down big shots, setting picks and providing all-around toughness.  Newly acquired forwards Eric Griffin and Ivan Johnson are just as capable of stepping into that role, while providing much more skill and athleticism on the offensive end.
The Replica Fadeway
2011 Ian Mahinmi vs. 2014 Bernard James
Third string center Ian Mahimi is most remember for his replica one-legged fadeaway in the closing second of the third quarter in the 2011NBA Finals (http://youtu.be/Z657Q1NcNF8) despite being regulated to the teams 14th man.  In 2014, Bernard James, who is expected to re-sign with the Mavs, will provide the same role as a practice body and bench leader.
The Future
2011 Dominque Jones vs .2014 Ricky Ledo
DoJo was supposed to be the next starting point guard for the Mavs, but his development never really materialized and he was last seen playing for the Liaoning Flying Leopards of the Chinese Basketball League (30.6 ppg, 5.8 rebs, 6.5 asts).  The Mavs are hoping Ricky Ledo, the #6 prospect on Rivals 150 for 2012, will and should have more potential the Jones.
If things come together as they did back in 2011, this Mavericks squad will be one to reckon with even in the ultra competitive Western Conference.
Why Not Us?
Credit: Basket4us.com (DeShawn Photo); ProSportsBlogging.com (Marion Photo); TotalProSports.com (Dirk Photo); CBSSports.com (Tyson Photo)