It was clear that the starting pitching was the weakness for the 2018 Texas Rangers. However, the defense did not help the cause. The Rangers had the worst fielding percentage in 2018 among all AL teams. The club also committed the most errors in the AL and had the highest stolen base percentage in baseball (runners were stealing at an 80.9 percent rate). Despite all this negativity, the 2019 season projects as a step up defensively for this group.
Stability
A point of emphasis this season for Jon Daniels and the Rangers organization is finding a single spot defensively for each player. Last season, Joey Gallo played at four different positions. However, GM Jon Daniels made it clear that Gallo will anchor at left field (with some sprinkles of center and right mixed in). Now it wasn't because Gallo's defense suffered from all the moving around. Joey committed only three miscues in 1163 innings total last year. The idea for the Rangers is to increase Gallo's concentration on the offensive side and make him more comfortable at one spot on the field this season. However, I do expect that the Rangers will shift Gallo around (defensively, we're not talking about "THE" shift) from left to center, right, and even first base if needed.
Isiah Kiner-Falefa is another utility name that the Rangers threw out on anchoring to one lone place. Last year, IKF played at four different positions. Daniels announced this offseason that Isiah's spot is behind the plate. The Rangers main goal in acquiring Jeff Mathis was to get Kiner-Falefa and even Trevino accustomed to big league catching. IKF showed progression in throwing out thirty-two percent of base-stealers in limited time. A chunk of last season was placing players around the diamond to see what sticks. For this season, the Rangers look like they laid out a solid blueprint for their defense.
A Relatable Manager
In his playing days, Chris Woodward played at all four infield positions in six different seasons. He also got a small amount of experience in the outfield for a few games in 2005 and 2006 with the Mets. In twelve seasons, Woodward committed only seventy-five errors in 4,089 innings among seven different defensive spots. The only positions Woodward did not play were catcher and pitcher. It's beneficial for a team that has a skipper that played at seven separate locations on the field because he can give his input. It is especially useful to the utility guys, so they can get accustomed to anchoring at one spot or even shifting from one position to another.
Bringing in Defensive Backup
The Rangers committed 120 errors last season. However, thirty percent of those came from Jurickson Profar (25). The three main infield acquisitions (Cabrera, Wisdom, and Davidson), combined for thirteen errors in over 1,680 innings last season. Also, the Rangers acquisition of Jeff Mathis gives this club a solid backstop defensively. In his career, Mathis accumulated only forty-nine errors in over 800 games played and over 6,485 innings. Due to the defensive struggles for the Rangers last year, the pitching staff proceeded to allow 65 unearned runs.
Beltre lost, Cabrera gained
The Rangers did lose a prime third baseman in Adrian Beltre. However, the club brought in another top-notch defensive infielder in Asdrubal Cabrera. In 2011, Cabrera won the MLB.com GIBBY award for defensive player of the year with the Cleveland Indians. It is an end of year award issued by MLB.com given to the best defensive player in baseball given by media, front office, retired MLB players, etc. After 2014, it was re-categorized into the Esurance MLB awards.
Here's the projected defensive alignment for 2019
C – Isiah Kiner-Falefa/Jeff Mathis
1B – Ronald Guzman/Joey Gallo/(Patrick Wisdom or Matt Davidson)
2B – Rougned Odor/Asdrubal Cabrera
SS – Elvis Andrus/Asdrubal Cabrera
3B – Asdrubal Cabrera/(Patrick Wisdom or Matt Davidson)
LF – Joey Gallo/Willie Calhoon/Shin-Soo Choo
CF – Delino DeShields/Joey Gallo
RF – Nomar Mazara/Hunter Pence/Shin-Soo Choo
DH – Shin-Shoo Choo/Joey Gallo/Nomar Mazara
I don't expect the Rangers will jump from worst to first in field percentage. There will be growing pains, and I do think early on it will be a small struggle for the new guys. However, this club looks focused on all three phases. With a lot of the guys stapled to one spot, this season is a step up in the right direction for the Rangers defensive genetics, right Ronald Guzman…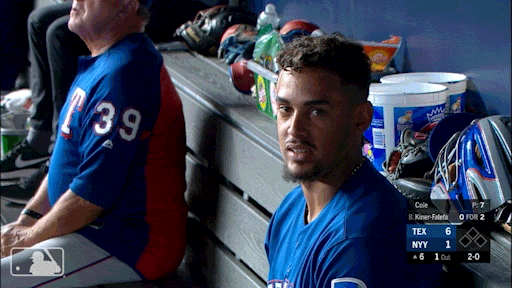 COVID-19 Latest News and Information