The Rangers offense hasn't changed that much from the offseason. The club extended one-year deals to Delino DeShields and Nomar Mazara. They also added infielders Asdrubal Cabrera in free agency and Patrick Wisdom in a trade with the St. Louis Cardinals. Looking at last season and the potential this group brings, there are some things to look forward to on this offense. However, there are a few holes on the hitting side of this club. Let's take a gander at both sides.
The Positives
Young experience
Currently, the Rangers have fifteen position players on their active roster. Out of those fifteen, only four players are older than 27 (Shin-Soo Choo, Elvis Andrus, Asdrubal Cabrera, and Jeff Mathis). Scott Heineman is the only player on the roster that has not appeared in a Major League game. Now this will change due to Scott's shoulder injury he suffered in mid-December forcing him to have surgery. The point is that this is a young and experienced club of position players. Ronald Guzman and Isiah Kiner-Falefa are going into their second season. Joey Gallo and Mazara are entering their fourth and Delino DeShields is coming into his fifth major league season.
Patience
A major positive last year for this team was their patience to draw walks. The Rangers drew 555 walks last year, fourth in the AL, and the other three teams were playoff teams (Yankees, Astros, Red Sox). Choo was fourth in the AL in walks (92) and Gallo was tenth (74). While this is an aggressive club offensively, they know how to work the count. This is a feature that the Rangers will continue to build and even climb higher to prove their patience.
New sheriffs in town
Sometimes a team needs a coaches' cleanse, and GM Jon Daniels agreed this offseason. The Rangers brought in a new skipper, pitching coach, and a new hitting coach, Luis Ortiz. What Ortiz will bring to this young core is a new style of hitting. During fan fest, Joey Gallo and Nomar Mazara talked about how the work with Ortiz is improving their game, especially against that exquisite left-handed shift. There will be some growing pains and frustration with a new coaching staff. Then again, playing in the minors, a new coaching staff is not a new phenomenon for this group.
The Negatives
Strikeouts
It's true that strikeouts are more accepting than they were in the Camelot ages. However, who likes to strike out at the plate? That being said, this was a club that struck out the fourth most in baseball, and second in the AL behind the White Sox. If the Rangers are going to focus on discipline, the strikeouts may dwindle, but most of these guys are power hitters with strong and long hands. That's a deadly combination for power moonshots, but it also is a recipe for whiffs.
Consistency
Everyone goes through slumps; it's the most baseball thing ever. However, what makes a season go from bad to good to great is how a player can escape that slump. There was some consistency throughout the 2018 season. Shin Soo-Choo had an on-base streak of 52 games that snapped after the All-Star break vs Cleveland. The club as a whole scored the third most runs in the month of August. But with all that said, this was an up and down season on offense. With a young group of guys and a team that is in a stinging halt, consistency is difficult to meet. The question is how will the team respond when downs start snowballing on them.
Running Game
The Rangers statically were not a running team last year. The club stole 74 bases last year and Delino DeShields and Rougned Odor accumulated 32 of those stolen bases. Not to mention Odor's stolen base percentage was at fifty percent last season. Obviously, the Rangers haven't finalized their roster yet, but this current squad doesn't scream speed. I'm sure Chris Woodward is going to push Delino to use his speed on the base paths and the running game could be something Odor is going to work on this season. If the Rangers can create a threat on the base paths, the offense will see more chances and even more mistakes by pitchers.
There is a lot of improvement to work on for this coaching staff. However, the potential is there. This is a group that can ground and pound the scoreboard with some confidence, and create night terrors for the opposing pitcher. You never know, this squad is feeling the fire.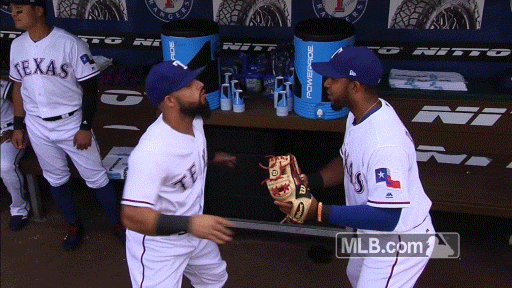 COVID-19 Latest News and Information