Welcome back to Jack's Place.
We return to Muirfield Village this week for one of the most popular non-major events on tour – The Memorial.  This tournament belongs to Jack Nicklaus who is arguably the greatest golf of all time.  He's got more majors than anyone (18) and more runner-up finishes (19) than anyone.  It's beyond safe to say that his name carries some serious weight in the golf world – which is what brings Tiger Woods and an absolutely loaded field to the course this weekend.
Jack founded the Memorial Tournament in 1976 and it has been played every year since.  He won it the year after and again in 1984.  Tiger knows his way around this golf course.  He has won here five times, most recently in 2012 by hitting what Jack himself called the greatest golf shot his veteran eyes has ever seen considering the circumstances.
Muirfield Village is also the place where Tiger reminded us how hard golf is right before reminding us how incredibly amazing he is at golf.  This fist pump ranks among Tiger's best and sent the gallery into an absolute frenzy.
God, this man is so good.
The Course
Now you're just showing off, Muirfield Village. 😍 pic.twitter.com/jw9LRBE56L

— PGA TOUR (@PGATOUR) July 15, 2020
Muirfield Village is Jack's vision, design and creation.  It's named after Muirfield, Scotland, where Jack won his first British Open.  It's hosted a Ryder Cup, a President's Cup, the US Amateur and the Solheim Cup – this place is no joke and an absolute gem of a golf course.  Muirfield and the Memorial is a must stop location for all the best touring pros.  Each of them want nothing more than to be the last man off of 18, where Jack Nicklaus awaits for a signature handshake.  And if you think a little global pandemic is going to stop this legend from trying – think again.
Despite current PGA Tour COVID-19 guidelines prohibiting handshakes, Memorial host Jack Nicklaus says that won't stop him from shaking the winner's hand Sunday. https://t.co/lmVpXArw4s pic.twitter.com/iPnBqBym5I

— Golf Central (@GolfCentral) July 14, 2020
Jack found inspiration for a number of holes on this course from his favorites around the world.  It's a par 72, tips outs at 7,392 yards and is known for some of the slickest greens on the PGA Tour.  It's a rewarding place and a punishing place.  It'll make you look incredible and make you look silly.
Let's check out some of these delicious golf holes.
Hole 3, 401 yards, Par 4
This one isn't super long.  Plenty of fairway to hit and they better do so or risk having to navigate some tree line alongside a creek that leaves a crippling drop location.  Once you're in the fairway the job is far from over.  Water in the front and a bunker deep leaves players with a confident decision to be made.  Ranked as the 14th hardest hole on the course this hole should be pretty manage for everyone that finds the fairway.
Hole 8, 202 yards, Par 3
This is the shortest of the par threes at Muirfield but it is an absolute beauty.  I mean… look at it.
One of the best par threes on tour… #8 what a great looking hole 😵 pic.twitter.com/g9J0GkBU34

— Zac Blair (@z_blair) May 30, 2017
Downhill tee-shot to a plateau green.  Guarded by bunkers on all sides.  The valley from tee to green makes club selection absolutely vital.
Hole 11, 583 yards, Par 5
Elevated tee box, incredibly reachable for these guys.  That being said, a good tee shot here is vital as a creek cuts diagonally through the fairway at around 320 yards.  It doesn't stop there.  The creek continues to whip up the fairway before cutting directly across an elevated green.  Two great shots will get you on in two, but miss just a little bit and you're in serious trouble.  Just ask Phil Mickelson.
Hole 12, 184 Yards, Par 3 
Recognize this one?  It may remind you of Augusta's famous 12th, as Jack intended.  Just like Augusta, an intimidating tee shot could lead to a mental mistake as you gaze at the beauty of this perfect golf hole.
Hole 18, 484 yards, Par 4
A wonderful, challenging finishing hole.  Ranked the hardest on the golf course, this hole is as testy as any 18th on tour.  Danger left courtesy of thick tree line and another creek, a good tee shot is yet again essential.  The approach in is uphill to a heavily bunkered and difficult green.  Even in you hit one in regulation, if it's not in the right spot, you may be kicking yourself as you walk up.  In normal times, 20,000 fans would be awaiting the winner.  This year, it'll just be Jack.
The Field
Man, this one is stacked.  Tiger is back.  Just check out these featured groups:
Rory McIlroy, Tiger Woods, Brooks Koepka
Thursday: 1:17 p.m. ET (No. 1); Friday: 8:17 a.m. ET (No. 10)
Phil Mickelson, Justin Rose, Shane Lowry
Thursday: 1:06 p.m. ET (No. 1); Friday: 8:06 p.m. ET (No. 10)
Bryson DeChambeau, Collin Morikawa, Patrick Cantlay
Thursday: 8:06 p.m. ET (No. 10); Friday: 1:06 p.m. ET (No. 1)
Justin Thomas, Xander Schauffele, Dustin Johnson
Thursday: 8:17 a.m. ET (No. 10); Friday: 1:17 p.m. ET (No. 1)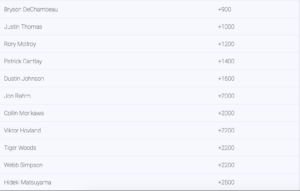 Some value guys:
Xander Schauffele +2500
Tony Finau +6000
Jordan Spieth +7000

My pick 
A nearly impossible task this week.  There's elite talent all over this course.  We've got last week's winner Colin Morikawa, everyone's least favorite long hitter Bryson DeChambeau, TIGER FREAKING WOODS and an endless list of the world's best.  But, alas, this is the burden I bare.
My guy this week is last week's runner up Justin Thomas.  This dude had the tournament in his hands before being bested in one of the best playoffs in recent memory.  The kid is a competitor and will be hungry to redeem himself.  JT for the win!
Where to watch
It's always a monumental task to figure out where the damn golf is so here ya go:
Television: Thursday-Friday, 2:30 p.m.-6:30 p.m. ET (Golf Channel). Saturday, 12:30 p.m.-3 p.m. (Golf Channel), 3 p.m.-6 p.m. (CBS). Sunday, 1 p.m.-3:30 p.m. (Golf Channel), 3:30 p.m.-7 p.m. (CBS).
PGA Tour Live: Thursday-Friday 7 a.m.-6:30 p.m. (Featured Groups). Saturday-Sunday, 7:45 a.m.-6 p.m. (Featured Groups, Featured Holes).
Did I mention Tiger is back this week?  Memorial is always must watch.  See y'all Sunday!