Free Agency is quickly approaching and the Mavs' front office has some crucial decisions to make this summer. Possibly the most important hole in the Mavericks' roster is at the Small Forward position. 15-year veteran Shawn Marion has reported that he wants to sign with a title-contender in the final years of his career. Also, Vince Carter, coming off an amazing Sixth Man of the Year campaign season is rumored to be gaining strong interest from the Miami Heat.
So here's a look at the top 10 players at small forward in the Free Agency pool this summer:
1. LeBron James | Heat (Unrestricted)
27.0 PTS 6.4 AST 6.9 REB
LeBron James will opt-out of deal, source confirms. He's determined to impose pressure on Miami to improve roster and spend, sources say.

— Adrian Wojnarowski (@WojYahooNBA) June 24, 2014
The sports media have anxiously waited and now the news has released. Lebron James has decided to opt out of his contract with the Miami Heat. With an embarrassing Finals defeat against the Spurs, the decision to opt out is supposed to fuel the Heat's front office to bring younger better role players with the two-time NBA champion.
It should be an interesting summer for Lebron; either taking his talents to another team or remaining in South Beach.
2. Carmelo Anthony | Knicks (Unrestricted)
27.4 PTS 3.1 AST 8.1 REB
Carmelo enters this free agency period with more career years behind him than ahead. The obvious intent is that Anthony wants to go to a title-contending team who will offer the most money. If the Mavericks desire the sign Melo, they'll have to sacrifice giving up $96 million in a max contract.
Anthony will have plenty of suitors lined up on July 1, but time will tell whether he truly wants to win or if money and the allure of a big market keeps him in New York.
3. Chandler Parsons | Rockets (
Restricted

)

16.6 PTS 4.0 AST 5.5 REB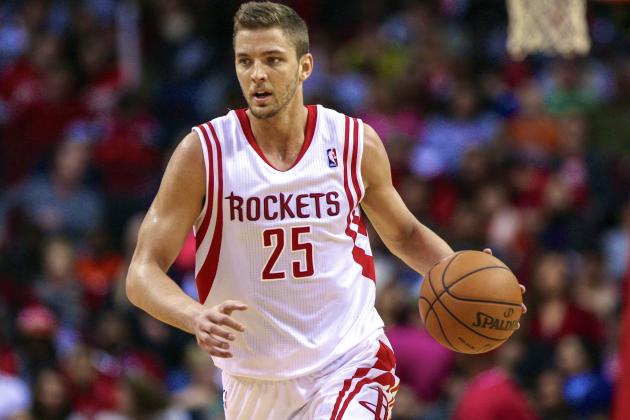 The Rockets declined the fourth year of Chandler Parsons' rookie deal, freeing up $964,750 in the salary cap. Parsons is clearly one of the best underrated players in this league. Chandler ranked top ten amongst Small Forwards in points, field goal percentage, assists, and minutes played.
After a great season, Parsons might be considering requesting to teams a max contract for his services. Teams could very well take advantage of the Rockets' situation as they aim for the marquee names and be forced to see Parsons slip away.
4. Luol Deng | Cavaliers (Unrestricted)
16.0 PTS 2.7 AST 5.7 REB
Cleveland will likely select Jabari Parker or Andrew Wiggins, both small forwards, with its #1 overall pick in the upcoming draft. It looks as if the Cavs will not make an effort to re-sign the small forward from Sudan.
Despite Deng's several injuries, he'd improve the Mavs on both ends of the court. Deng's tenure with the Bulls before being traded this year might have been the best offensive stretch of his career, averaging 19 points a game while shooting 45% from the field.
Are the Mavericks a perfect match?
5. Trevor Ariza | Wizards (Unrestricted)
14.4 PTS 2.5 AST 6.2 REB
Trevor Ariza enters the summer having just played statistically his best season of his career. He shot a decent 40% from behind the three-point line, which is third-best amongst small forwards in the regular season.
The 6'8" swingman has very good defensive skills around the perimeter. Ariza's defensive ability is a good option guarding guys like Kevin Durant in Western Conference matchups.
6. Gordon Hayward | Jazz (
Restricted

)

16.2 PTS 5.5 AST 5.1 REB
You have to wonder the reason as to why the Utah Jazz so desperately wanted to ship Gordon Hayward off during the regular season. Hayward averaged career highs in points, assists, and rebounds. Playing at a high level and just 24-years-old, Hayward would be a nice fit for the Mavericks in position of signing him to a long-term deal.
Only this won't be easy, the Jazz have plenty of room to match any kind of lousy offer for their wingman. Wouldn't expect the Mavs to get into any type of bidding war for Hayward.
7. Evan Turner | Pacers (
Restricted

)

14.0 PTS 3.2 AST 5.0 REB

Evan Turner's free agent stock has undoubtedly dropped after being traded from Philly to Indiana. In his 54 games with Sixers, Turner recorded a monster 17.4 PPG, 6 RPG and 3.2 APG. His PPG number dropped over 10 points after the Sixers/Pacers trade in late February coming off the bench.

Looks like Turner might not re-sign with the Pacers with Indy's President Larry Bird making Lance Stephenson his offseason priority.
8. Caron Butler | Thunder (Unrestricted)
10.5 PTS 1.5 AST 4.1 REB
Remember Caron? Yes, The former Dallas Mavericks 2011 NBA Champion is a free agent.
At 34 years old, Caron is probably looking to sign with a title contender to get another ring before he hangs it up. Caron shows he can still produce offensively averaging 10 points 25+ minutes coming off the bench. OKC is considering Butler's age and possibly wont re-sign him.
9. Paul Pierce | Nets (Unrestricted)
13.5 PTS 2.4 AST 4.6 REB
"The Truth" as we fans like to call him, probably has one of two years left of good basketball before his career is over.
He isn't the best choice to replace Shawn Marion in the starting lineup, but could be a vital asset coming off the bench. A guy like Pierce is valuable being that he is arguably a top 20 clutch performer in NBA history. We must not forget his game-winning block against the Raptors in Game 7 in the first round.
Kevin Garnett and Pierce returning to Brooklyn?
10. Danny Granger | Clippers (Unrestricted)
8.2 PTS 1.0 AST 3.2 REB
Danny Granger was once before an elite performer in this league before injuries plagued the growth of his career. The '09 NBA All-Star selection is only 31 years-old looking to not let his career go down the drain.
Maybe a new change of scenery can help Granger become the all-star selection that he once was. But in reality he's more a shell of his former self, a nice bench role suits the former New Mexico star.