The Rangers couldn't complete a winning June like they did May. However, after a rough start to June, the Rangers battled back to at least come close. The Rangers finished June with a 12-14 record after starting 2-7. It felt like a microcosm of the Texas season trying to step on the gas. Texas finds itself within striking distance of a wild card spot, and who knows if it's the start of something special in Arlington. Here are your Rangers monthly awards for Pride Month (June).
Player of the Month: Adolis García
It was a big-time month for Adolis García. Sure, it didn't quite match up to May 2021 Adolis García, but it was a month the Rangers needed from their big man. García hit .314 with a .929 OPS, seven home runs, eighteen driven in, thirty-three hits, and six stolen bases. All the numbers I mentioned led the team in each category (with a minimum of five or more at-bat). "He has a flair for [the dramatic]," Chris Woodward said after the walk-off win against the Nationals. "This guy is different. It's not that he's lucky. You almost expect it." But, of course, he's also a workhorse in the outfield. Entering July, the key for Adolis is consistency.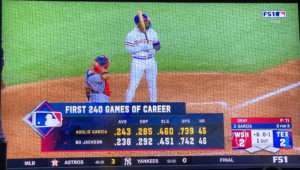 Play of the Month:
Adolis walk-off home run (June 25 vs WSH)
Adolis has a flare for the dramatic. We all know this and have even expected drama (good drama) from García. In the ninth inning of a tie game, who is your guy to come up clutch and deliver the finishing blow? Well Adolis García of course. How does he do it? "I continue to do the same things I do on a daily basis and continue with my plan," Adolis said after the walk-off. "Those things have helped me knowing that I make that adjustment during the game and how they pitch me."
Gar-SEE YA!

Adolis Garcia walks it off for the @Rangers with a 449-foot LAUNCH 🔥💪 pic.twitter.com/njyeifGT5p

— FOX Sports: MLB (@MLBONFOX) June 25, 2022
Pitcher of the Month: Matt Moore
The Rangers had a few players to choose from in pitcher of the month. Four players didn't allow a run in June. Of course, Josh Sborz had two outings, Brett Martin had a limited workload as he was out for a little bit, and Charlie Culberson is Charlie freaking Culberson. But the fourth player was Matt Moore. It's a little challenging to determine Matt Moore's role on the team. He can go multiple innings, but usually, those roles save for when the game is out of hand. Moore picked up a save on June 13th (his first career professional save) and allowed only eight baserunners in his 13.1 innings in June. Moore is successful in any role Chris Woodward puts him in.
Game of the Month: (June 12 at CHW)
Honestly, you could choose either win during the White Sox series. However, I went with the finale with all the twists and turns and of course the final play of the game. Here's the recap of a crazy game to close out the series in Chicago.
Quote of the Month: Chris Woodward (June 10 at CHW) 
Me to Chris Woodward pregame: "Are you sick of seeing rain?" #StraightUpTX

The skipper response: pic.twitter.com/SVUX7b4okI

— Alex Plinck🏳️‍🌈 (@aplinckTX) June 10, 2022
Regarding east coast road trips, Mother Nature victimized the Rangers with rain. They had two rainouts in New York and lost an off day. In Cleveland, the club lost a day, played a doubleheader that was delayed due to rain, then had another two-hour delay on the final game of the series, and The rain canceled their batting practice outside in game one of the White Sox series. Therefore, I asked Rangers' skipper Chris Woodward that Friday in Chicago, "Are you sick of rain?"
Obviously, the Rangers can't control it, and other teams deal with it more than Texas, but it was intriguing to hear how much of a non-factor the heat is for Woodward and the Rangers. "I don't even check the weather at home," Woodward said. "Half the time, I don't even know it's hot outside. I get in my car in the garage, and the air conditioner is on, and I roll to the field, drive underground, and don't feel the heat." Woodward even commented that his office could get chilly at times.
Cowboy Hat of the Month: Adolis García (June 25 vs WSH)
García leads all Rangers with six Cowboy Hats through three months of the season. He's one hat away from matching Jordan Lyles' total from a year ago, and there are still over three months left. Adolis picked up three hits in June (all coming on Saturday games). The crazy part was Brad Miller had a 2-0 lead on Adolis before García even won his first hat. The last one he won was on June 25th. He came into the interview room sporting it out. I like the idea; you win the game on a walk-off home run, win the cowboy hat, and embrace it in your postgame interview.
Adolis has the Cowboy Hat 🤠 #straightuptx pic.twitter.com/4QHdVSDtJg

— Alex Plinck🏳️‍🌈 (@aplinckTX) June 25, 2022
Milestone Moment(s) of the Month: Brad Miller (June 24 vs WSH) and Matt Moore (June 25 vs WSH)
You can read more about how Brad Miller and Matt Moore impact the Rangers clubhouse here. The excitement the two had when bringing up each other's milestones brought a smile to my face. Matt Moore is typically a professional guy, but I can see a massive smile on his face when talking about Brad's one-thousandth game and the possibility of Matt pitching and getting his one-thousandth inning pitched on the same day. Brad Miller, meanwhile, let out a "No Way!!!" exclamation and immediately was like, "let's do this!" While it didn't happen on the same day, you can tell they both root for each other.
I asked both Matt Moore and Brad Miller on how it would be if they both reached their milestones in the same game:

They both got perplexed and pumped up to hear the news. #StraightUpTX #Rangers https://t.co/QING1W4VU1 pic.twitter.com/1rLWwO2dlW

— Alex Plinck🏳️‍🌈 (@aplinckTX) June 24, 2022
Travel Story of the Month: Tyson Miller (June 10 at CHW) 
When I left Chicago to head back to Dallas, all I could think about at 3:30 am was Tyson Miller's trip to Chicago from Las Vegas. A breakdown of a hectic but possibly unforgettable weekend for Tyson Miller in Chicago:
Woke up at 6 am thinking Tyson was going to Tacoma
Was boarding a flight to Tacoma but was told not to board because there was a chance Tyson was heading to Chicago (which he ended up going to due to the Rangers' COVID issues).
Two flights were going to Chicago at the same time, and the Southwest person told Tyson to go to a gate that ended up being the wrong gate.
Ran in the Las Vegas airport as his name was being called on the intercom to make the other Chicago flight. Tyson said he was dripping with sweat trying to catch the correct flight.
Arrived in Chicago, but his bag went to Tacoma, so he didn't have his equipment with him. So instead, Tyson used Dane Dunning's glove for his outing against the White Sox.
Only had a Granola Bar the entire day until after the game.
Flew to Austin, bag shipped from Tacoma to Austin where he could grab it and head to Arlington via drive.
Just remember, if you see someone running in an airport, they may have just been told they are going to the Major Leagues at the last second and are about to miss their flight.
Worst part about this travel day was my baseball gear and personal suitcase both went to Tacoma on the flight, so shoutout @Ddunning33 for letting me use his glove tonight🙏🏽 https://t.co/qCtq9chqV1

— Tyson Miller (@Tyson_Miller07) June 11, 2022
Rangers GIFs of the Month: Brock Burke (June 18 at DET) and Kole Calhoun (June 16 at DET)
With Kole Calhoun, you know what you're going to get. He is a fiery guy who will bring out his teammates' emotions. After a clutch three-run triple by Ezequiel Duran, Bally Sports cut to Calhoun and delivered a moment that even motivates me while writing this on my sofa. You don't need to be a lip-reading expert to know what exactly Kole is saying, and I'm somewhat surprised that the on-field microphone at Comerica Park didn't pick it up. If you want to see why the Rangers picked up Calhoun in the offseason, this moment alone captures a good reason.
I want the same energy Kole Calhoun has #straightuptx pic.twitter.com/VMwu50Eizp

— Alex Plinck🏳️‍🌈 (@aplinckTX) June 17, 2022
Meanwhile, after an Adolis García home run on a Saturday afternoon, FS1 picked up a shot in the Rangers dugout. García was next to Brock Burke and Joe Barlow, and I'm not sure what Brock Burke was saying or doing. I don't know if Adolis paid attention, although I know Barlow was. You usually don't get these bullpen player shots because they're in the bullpen. Many bullpen guys tell me it's a different atmosphere there, and if this is any indication, boy, are they right.
We're only 7 mins into this game and already I feel Brock Burke wins the Rangers gif reaction award today. #straightuptx pic.twitter.com/WpOuI8xruj

— Alex Plinck🏳️‍🌈 (@aplinckTX) June 18, 2022
Creepy Moment of the Month: White Sox's staff (June 12 at CHW)
just keep taking infield, guys. pretend you can't see them. they can only eat your soul if you look at them pic.twitter.com/2kj3JPU9w9

— Levi Weaver (@ThreeTwoEephus) June 12, 2022
I don't have the background on this. I have no idea why White Sox staff members in black coats roamed all over the ballpark before the game. They probably do this during every game, but on a Sunday, the Athletic's Levi Weaver, myself, and the Dallas Morning News' Joe Hoyt noticed something unsettling. It's a scene you'd see in a horror movie. They walked in unison around the complex during Rangers' fielding practice. Luckily they didn't capture any souls.
Pride Award of the Month: None
Yeah, it's tough walking into the ballpark daily knowing a Pride game isn't happening and watching the success every other team did in their Pride festivities. All I can say is maybe next year (although the likelihood of that is slim). Here are a couple of stories I wrote Pride-related about the Rangers' lack of Pride and how MLB clubhouses have changed where teammates would be more accepting of an LGBTQ+ player in the Majors. Happy Pride, everyone!